| Introduction | Analog I/O | Digital I/O | Motion Control | Communication | Memory Socket, Blank I/O | Software Support |
With different communication interface, the I/O modules can be classified to high communication speed (Parallel bus) 8K series modules and low communication speed (serial interface) 87K series modules.
I-8K Series VS I-87K Series
There are two types of I/O modules, Parallel and Serial. The parallel modules (I-8K Series) are high-speed modules and support MCU (Main Control Unit) only. The serial modules (I-87K Series) can support either MCU or I/O expansion unit. The difference between the two series are:
Model
I-8K Series
I-87K Series
Communication interface
Parallel bus
Serial bus
Protocol
-
DCON
Communication speed
Fast
Slow
DI with latched function
-
Y
DI with counter input
-
Y (100 Hz)
Power on value
-
Y
Safe value
-
Y
Programmable slew-rate for AO module
-
Y
High Profile VS Low Profile
With different form factor, I/O modules can be classified to high profile and low profile. Basically, high profile and low profile modules that with same item number also have same I/O channel number.
For example: I-8054 and I-8054W both has 8 DI and 8 DO.
Except I/O channel number, other specifications could be different. You have to double check whether the specifications suit your application. For example:
For I-8054W, its DI logic high level is +10~+50V. But for I-8054, it is +3.5~+30V.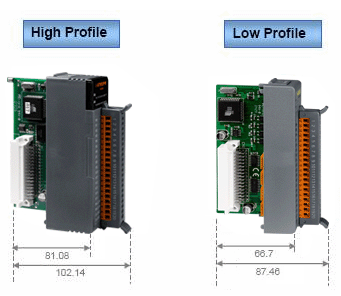 The support list of MCU (Main Control Unit) and I/O expansion unit are:
I-8K Series VS I-87K Series
There are two types of I/O modules, Parallel and Serial. The I-8K series modules are high-speed modules with parallel interface and the I-87K series are serial interface modules. Both they are supported on PAC (Programmable Automation Controller) units listed in the following table.
PAC
Description
I-8K Series
I-87K Series
High Profile
Low Profile
High Profile
Low Profile
XPAC
WES/CE6 OS
Y…
-
Y…
-
WinPAC
CE5 OS
Y…
-
Y…
-
LinPAC
Linux OS
Y…
-
Y…
-
ViewPAC
PAC with Display
Y(Note)
-
Y(Note)
-
iPAC
MiniOS7 OS
Y
-
Y
-
iPPC-6731-WES7
WES PAC with 15" Touch Panel
Y
-
Y
-
MP-8000
Motion PAC
Y…
-
-
-
I-8000
MiniOS7 OS
Y
Y
Y
Y