New Product Release: iDCS-8830 rugged & redundant remote I/O system with Modbus/TCP & Modbus/UDP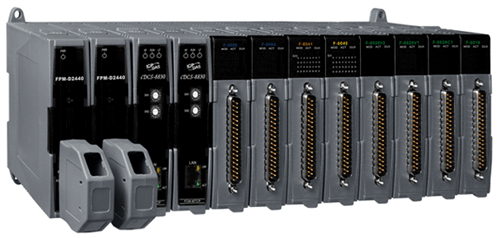 The iDCS-8830 is a modular remote redundant I/O system supports Modbus/TCP and Modbus/UDP with 8 I/O slots designed to work in duplex or simplex I/O application. It provides easy installation of the I/O modules and process cabling. The iDCS-8830 is highly modularized and flexible, so that the I/O modules can be combined to suit many applications including the most types of signals, digital, analog, counter and HART.
The station of an iDCS-8830 system consists of power modules, communication modules, I/O modules and termination boards. The power modules provide the isolated power to iDCS-8830 system. The communication modules are the interface to the iDCS-8830 I/O modules. The iDCS-8830 I/O modules sense or control the device in the field. Termination boards are used to connect between signals to/from the field and I/O modules.
All this supports Hot-swap for easily replaceable feature. The communication component of this system comprises a pair of partnered Ethernet adapter modules that communicate with Modbus/TCP or Modbus/UDP protocol, and the I/O modules that are configurable in simplex or duplex modes. Modules that are part of a redundant pair can be removed and replaced without system interruption. This system supports max 4 redundant pairs of I/O modules that work in Duplex mode. Therefore, the feature of redundancy can be adapted for use in both safety and critical applications.
With the iDCS-8830 system, you can achieve various industry applications by using the I/O modules of iDCS-8830 in any combination of configuration in either simplex or duplex mode.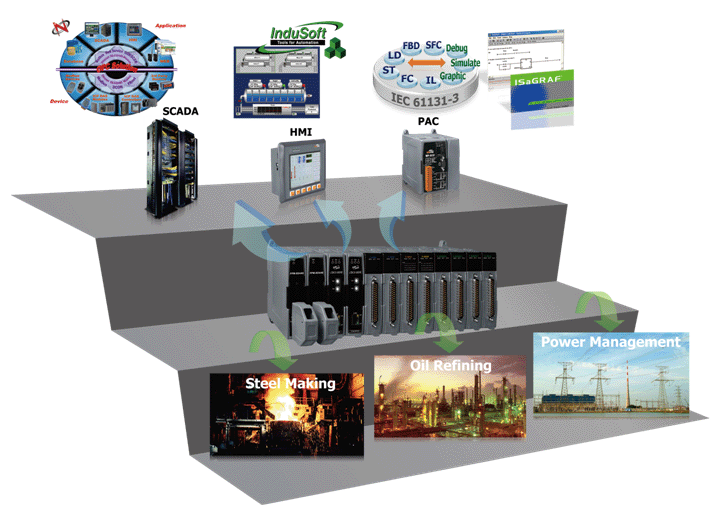 Features:
The iDCS-8830 is an open comprehensive, distributed, process I/O system. It communicates with controller over industry-standard field buses. It brings benefit for users install to iDCS-8830 in the field, to close to sensors and actuators, to reduce the installation cost by reducing the cost of cabling.
● Comprehensive
The iDCS-8830 offers cost-effective solutions to practically all needs for field-device, including basic analog and digital I/O, pulse and HART, as well as high-integrity solutions.
● Flexible
The I/O modules plugged in iDCS-8830 station can be configured into single or redundant operation. Users can easily upgrade I/O security in a same station by adding same I/O module and configuring into redundant operation without any additional wiring.
● Wide industry-standard support
The iDCS-8830 provides connectivity to most popular industry-standard to communicate with controller, and makes iDCS-8830 I/O compatible with various controller or PLC.
● The up-to-date I/O
The I/O modules plugged in the iDCS-8830 station will automatically update I/O data to communication module. This feature not only decreases the delay for updating I/O data but also acquire the up-to-date I/O data.
● Fast I/O redundant switching < 1ms
The iDCS-8830 features a tiny time for I/O redundant switching less than 1ms.
● Reliable
The iDCS-8830 offers availability-improving feature such as:
Hot swap of modules. A faulty I/O module can be replaced on-line without powering the station down and without affecting the rest of the station.
The iDCS-8830 system also ensures that only right type of modules can be inserted when to replace on-line.
Automatically re-configure same parameter when plugging a replaced module.
Redundancy options in all modules, power, communication, I/O.
Application: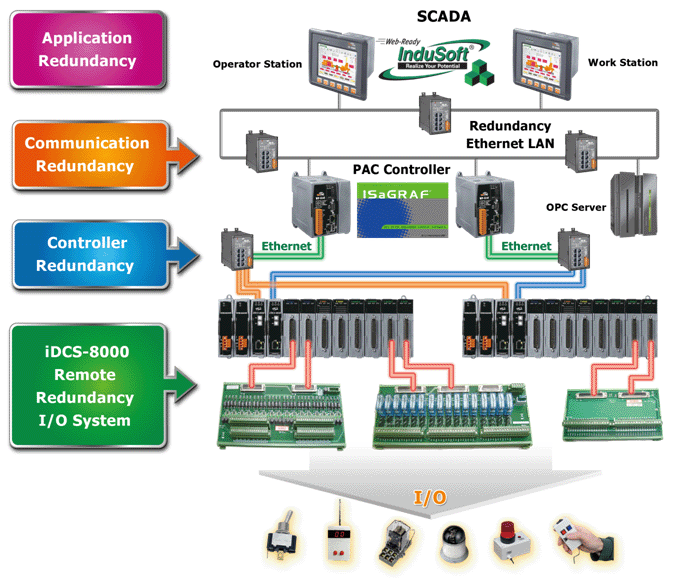 The iDCS-8830 is a dedicated system used to control manufacturing processes that are continuous or batch-oriented, such as oil refining, petrochemicals, central station power generation, fertilizers, pharmaceuticals, food and beverage manufacturing, cement production, steelmaking, and papermaking.
Software
Utility

Integration software
ISaGRAF, InduSoft, LabVIEW, NAPOPC
Product Release List
| | |
| --- | --- |
| | Will be available |
| | Available soon |
| | Will be phased out |
Modules

Type

Model Name

Description

Communication Module

FCM-MTCP
Modbus/TCP with support redundant function
Power Module

FPM-D2440
24 VDC input, 35W@5V, 120W@24V, with redundant function
Digital
Input

F-8040
32-ch, dry contact, sink/source, Isolated, one COM for all DI, LED display
Output

F-8041
32-ch, sink, 0.1A/channel, Isolated, one COM for all DO, LED Display
Analog
Input

F-8017C1
8-ch, 4~20mA, Isolated

F-8017CH
8-ch, 4~20mA with HART compliant, Isolated

F-8015
8-ch, RTD sensor Pt100, Pt1000, JPt100, Isolated

F-8019
8-ch, Single/Duplex, universal analog input and Thermocouple (J, K, T, E, R, S, B, N, C, L, M), Isolated
Output

F-8028CV
8-ch, 4~20mA, 0~20mA, 0~5V, 0~10V, +/-5V, +/-10V, Isolated

F-8028CH
8-ch, 4~20mA with HART compliant, Isolated
Termination Boards

Type

Model Name

Description

Digital
General

DN-DIO-M
General termination board for digital I/O
Input

DN-DI-32DW
32-ch, sink/source, EMS protection
Output

DN-DO-16DR-A
16-ch (ch0~ch15), removable 2A relay output with varistor

DN-DO-16DR-B
16-ch (ch16~ch31), removable 2A relay output with varistor
Analog
General

DN-AIO-M
General termination board for analog (Current/Voltage) I/O
Input

DN-AIH-08
Termination board for HART analog input module

DN-RTD-M
Termination board for RTD module

DN-TC-M
Termination board for thermocouple module
For more information, please visit the following website: http://www.icpdas.com/root/product/solutions/remote_io/dcs_redundancy_io/idcs_introduction.html