Ethernet is an ideal medium to transport large volumes of data, at speed, across great distances. Previously, multiple networks carrying specific protocols were installed side by side to carry out unique tasks. This inevitably lead to project costs increasing as additional fiber optic or copper cables were installed to deal with the increasing volume of data. Using Ethernet a single fiber optic cable can carry multiple protocols. Furthermore, manufacturers are exporting their legacy protocols onto Ethernet, designing new IP based communication protocols and providing embedded Web-Pages within devices that offer real-time information using simple tools like Internet Explorer and Netscape Navigator.

Early Ethernet were based on a hub or repeater. These units have no intelligence and therefore are unable to identify any information contained within the Header frame of an Ethernet packet. This means that it is not capable of determining which port to send the frame to. Therefore, every frame is sent to every port. A switch, like a hub, has to forward and receive packets from one network or device to another. The switch could forward all packets, but if this was the case it would have similar behaviour to a hub. It would be more intelligent if the switch only forwarded packets which needed to travel from one network or device to another.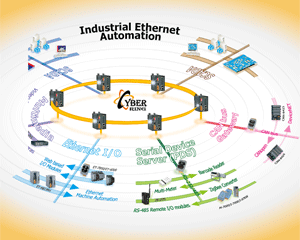 There are many poorly designed switches existing in the market, and most of them are fragile, easy to collapse, and always suffer from transmission delay and unreliable communication conditions due to packet collisions or other issues. Users who have bad experiences with those poor switches should try our high quality ones. ICP DAS's switches only choose REAL INDUSTRIAL grade switch chips that are temperature tolerant and highly reliable. They are all well-designed by skilled engineers and passed very strict communication and environment tests. All our switches can serve for a long life and guarantee to function perfectly under harsh environment.