Introduction:
The PIO-D96SU card is the new generation product with RoHS compliance and the new PIO-D96SU card is designed to replace PIO-D96U.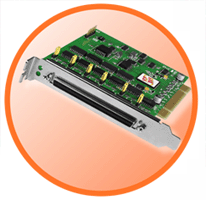 The new PIO-D96SU supports 3.3 V/5 V PCI Bus and one SCSI II 100-pin connector. This card provides 96 TTL digital I/O lines that consist of twelve 8-bit bi-direction ports. All ports are configured as inputs upon power-up or reset.
The PIO-D96SU also adds a Card ID switch and pull-high/ pull-low resistors for DI on board. Users may set Card ID on a board and recognize the board by the ID via software when using two or more PIO-D96U/D96SU cards in one computer. The pull-high/ pull-low resistors specify the DI status; when the DI channels are unconnected, the DI status will remain in high or low status without being left floating.
These cards support various OS such as Linux, DOS, Windows 98, Windows NT, Windows 2000, 32-/64-bit Windows XP/2003/2008/Vista/7 and Windows 8. It also provides the DLL and Active X control, and various language sample programs in Turbo C++, Borland c++, Microsoft C++, Visual C++, Borland Delphi, Borland C++ Builder, Visual Basic, C#.NET, Visual Basic.NET and LabVIEW to help users to quickly and easily develop their applications.