NEW Product:
µPAC-5001D-CAN2: Palm-Size programmable CAN controller (two CAN ports)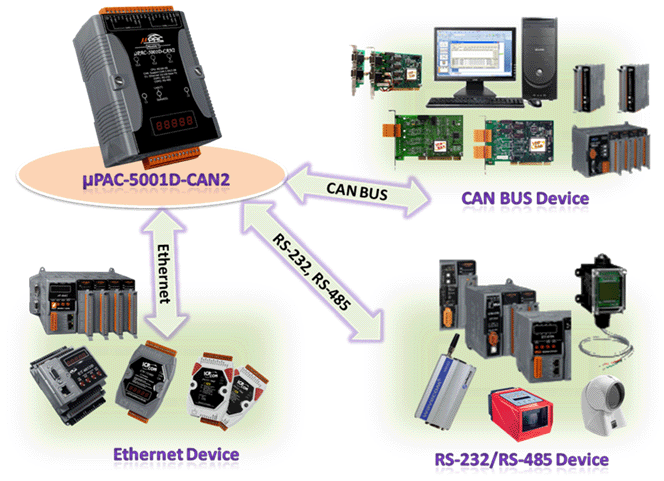 Introduction:
The μPAC-5001D-CAN2 is palm size PACs (Programmable Automation Controller). With abundant and various peripherals and communication ports, the μPAC-5001D-CAN2 can integrate different communication interface, like CAN bus, RS-232, RS-485, Ethernet and so on. μPAC-5001D-CAN2 provides DOS-like real-time single-task operation system for adapting to all kinds of needs. Users can develop application programs via C/C++ compiler. In respect of application development, the μPAC-5001D-CAN2 provides various libraries and demo programs about the peripheral components. With demo programs for these libraries as well. Through revising and combining these demo programs, users can easily and quickly implement their own required applications for the communication ports, watch dog, real-time clock (RTC), seven-segment display, reading/accessing into flash, EEPROM, microSD, and even using 64-bit hardware unique series number to protect the developed application software.

In order to work in harsh environment, the μPAC-5001D-CAN2 was designed as a low power consumption and fanless product. Besides, it adds all manner of anti-jamming protection components on circuit design and meet requirements of the wide operating temperature and wide operating voltage. Basis of all features which are described above, the μPAC-5001D-CAN2 is ideal for data collection applied to integrate all kinds of communication interface or as a data processing center. It can converts different protocol network so as to act as a gateway or bridge devices.
Features:
MiniOS7 Inside
C Language Programming

TCP/IP Library
Modbus Library
CAN Library
A lot of demos for reference

Various Storage Media

512 KB Flash
16 KB EEPROM
microSD

Various Communication Interfaces

10/100 Base-TX Ethernet
RS-232/485
CAN

Compatible with CAN specification 2.0 part A and B(ISO-11898-2).
Programmable support protocols like CANOpen, DeviceNet, J1939, etc.
Programmable transfer rate up to 1Mbps.
Jumper select 120Ω terminator resistor for CAN channel.
64-bit Hardware Serial Number
Programmable LED Indicator
5-Digit 7-SEG LED display
Redundant Power Inputs
Build-in WDT
Operating Temperature: -25 ~ +75°C
Storage Temperature:-40°C ~ +80 °C
Development
compilers

Turbo C++ Version 1.01
Turbo C Version 2.01
Borland C++ Versions 3.1 - 5.2.x
NOTE: We recommend that you use Borland C++ compiler
Application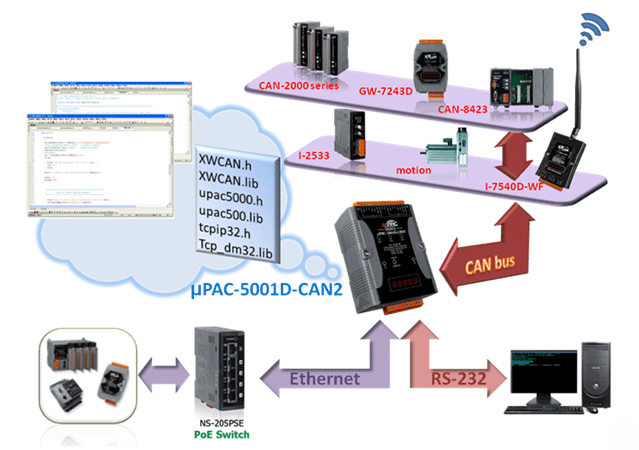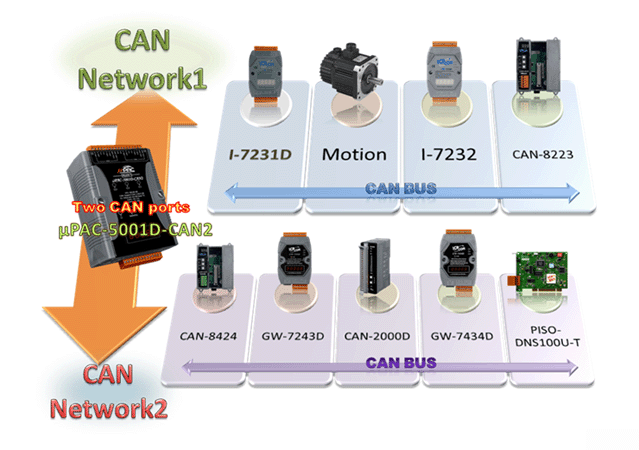 Module Name

I-7188XBD-CAN

μPAC-7186EXD-CAN

μPAC-5001D-CAN2

Pictures

CPU

80186, 40 MHz or compatible

80186, 80 MHz or compatible

SRAM

512 kB

Flash

512 kB

MicroSD

-

Up to 2 GB

EEPROM

2 kB

16 kB

NVRAM

31 Bytes (battery backup, data valid up to 10 years)

RTC

Provide second, minute, hour, date, day of week, month, year

Ethernet

-

10/100 Base-TX (Auto-negotiating, Auto MDI/MDI-X, LED indicators)

COM 1

RS-232 (TxD, RxD, RTS, CTS, GND) or RS-485(Data+, Data-), non-isolated

RS-232 (TxD, RxD, RTS, CTS, GND), non-isolated

COM 2

RS-485 (Data+, Data-) with internal self-tuner ASIC; non-isolated

CAN

1 channel (CAN_H, CAN_L), and the other is for bypass

2 channel (CAN_H, CAN_L)

7-Segment LED

Yes

Controllable LED

4

5

WDT

Yes (0.8 second)

64-bit Serial No.

Yes, for Software Copy Protection

Power Consumption

3 W

Power Input

10 ~ 30 VDC

12 ~ 48 VDC

Dimension (W x L x H)

72 mm x 122 mm x 33 mm

91 mm x 123 mm x 52 mm

Operating Temperature

-25 ~ +75°C

Storage Temperature

-30 ~ +80°C
For more detail of uPAC-5001D-CAN2, please refer to the following web site.
http://www.icpdas.com/products/Remote_IO/can_bus/upac-5000.htm

About the CAN/CANopen/DeviceNet/J1939 related product, please refer the following website.
http://www.icpdas.com/products/Remote_IO/can_bus/can_list.htm