We are excited to share the news that our products "WISE-5801 Intelligent Data Logger PAC Controller" and "uPAC-5000 series Wireless palm-size PAC Controller" are on the winner list of 2013 Taiwan Excellence Award!
The annually given "Taiwan Excellence Award" honors outstanding products for ultimate innovation, value, quality and design. And it pays tribute to especially innovative products that achieve outstanding levels in "R&D," "design," "quality," and "marketing". Once again we are truly honored that this year two of our products have been singled out from 1,221 products from 483 firms for this prestigious award!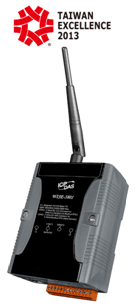 WISE-5801 Intelligent Data Logger PAC Controller with SMS function
WISE (Web Inside, Smart Engine) is a product series developed by ICP DAS that functions as control units for use in remote logic control and monitoring in various industrial applications. WISE offers a user-friendly and intuitive web site interface that allows users to implement IF-THEN-ELSE control logic on controllers just a few clicks away; no programming is required. With its powerful and easy-to-use features, it will minimize the learning curve, shorten time to market and dramatically reduce the effort and cost spent on system development.
In addition to merits inherited from the existing WISE series, WISE-5801 provides more supports in I/O functions. It allows to connect to a wide range of XW-Boards, I-7000 Remote I/O modules and Modbus RTU slave devices that enable users to freely choose the most suitable I/O modules, and provide user more flexibility in application field.
WISE-5801 provides Data Logger function to real-time record the I/O channel data of the controller by event trigger or regular time period and sends the data files by FTP or Email at a scheduled time to the control center for further administration management or data analysis. WISE-5801 features SMS sending function for alarm message. It also allows to receive the SMS commands sending by specific phones numbers to perform tasks such as real-time I/O channel monitoring, I/O channel data modification and logic rules execution (triggered by SMS). All setting can be completed through browser.
WISE-5801:
http://wise.icpdas.com/products/WISE-5801.html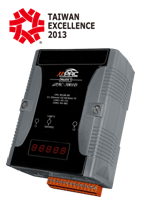 μPAC-5000 series Wireless palm-size PAC (Programmable Automation Controller)
The μPAC-5000 series is a palm-size programmable automation controller. It has a 80186 CPU, SRAM , Flash, Ethernet port, RS-232 and RS-485 port. With a DOS-like OS (MiniOS7) and a developed firmware running inside, it acts like a small PC.
ICP DAS provides easy-to-use software development tool kits (Xserver, MiniOS7 framework, VxComm, Modbus libraries). Users can use them to easily integrate serial devices to have Ethernet/Internet communication ability and through the standard Modbus protocol to communicate with SCADA software (Indusoft, ISaGARF, DasyLab, Trace Mode, Citect, iFix, etc.).
For hardware expansion, it also supports an I/O expansion bus. The I/O expansion bus can be used to implement various I/O functions such as D/I, D/O, A/D, D/A, Timer/Counter, UART, and other I/O functions. Nearly all kinds of I/O functions can be implemented by this bus. But the bus can support only one board. There are more than 10 boards available for μPAC-5000 series, you can choose one of them to expand hardware features.
μPAC-5000 series :
http://www.icpdas.com/root/product/solutions/pac/upac/upac-5000_introduction.html
ICP DAS has been committed to automation for years and we're more than delighted to be recognized for our continued efforts in bring leading-edge technologies to the industry. We promise we will continue to deliver superior customer value through best-value solutions, quality products and excellent services to all our partners and clients.